LET IT GROW - Part 1: Wild Daisy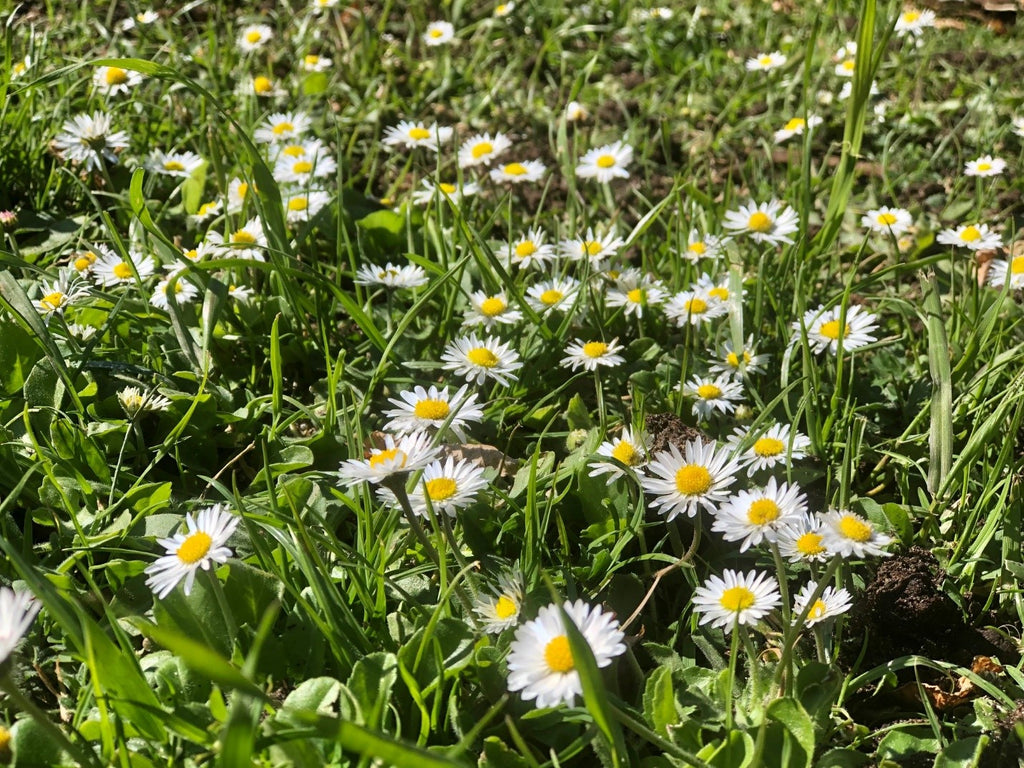 Don't you love spotting the first sign of spring? You can smell fresh leaves and flowers burst out of trees branches. You can hear birds singing and see butterflies dancing. Spring is growing seasons; this is a time to saw seeds and grow plants.
You may also spot many lives swathing out of lawns, park and grasslands, Wild Daisy, Dandelion and Stinging Nettle are mostly common seen. Many people trying to get rid these resistant "weeds" from their green grass. I was one of them! I once rewarded my children to collect hundreds of uninvited dandelions and exchanged for pocket money, until I found out these so called "weed" are actually edible and are the plant packed with medicinal properties?
Now, I am the one collecting this "weed" when they pop up in my garden or in forest near my house. I collect them and use for infused oil, tincture, balm, cream and cooking.  They are truly FREE medicine from nature!
Next time you see daisy, dandelion or stinging nettle, don't rush cutting them, let it grow!
Wild Daisy
Botanical name: Bellis perennis
Part used: flowers
Wild daisy is a plant that belong to one of the largest plant families in the world - "vascular plants"  those which circulate nutrients and water throughout the plant. The name of Daisy come from the Old English that's impossible to spell and impossible to pronounce. The most important is it means" day's eye". Their white petals with tiny yellow disc flowers are open during the daytime and close at night. Bees love daisy, it makes them an important friend of honey makers.
What Does the Daisy Flower Mean?
There are many meanings for daisies as there are many species of daisies. However, the most generally accepted meanings are:
Innocence, especially with white daisies with yellow or pale centers.
Purity – also shown by daisies that are as white as possible.
New beginnings, which is why they are often found in bouquets for new mothers or as gifts for children.
True love – because each daisy flower is really two flowers blended together in harmony.
That the sender can keep a secret. Keeping a secret is one way a person can exhibit that they truly love another.
Benefits of Wild Daisy
Daisies contain essential oil, tannins, mucous substances, flavonoids, bitter substances, organic acids, resins, and inulin. The active ingredients are found in all parts of the plant.
Daisy has anti-inflammatory and mild astringent properties and has been used internally, in tea form, as an herbal remedy for the common cold, bronchitis and other inflammation of the upper respiratory tract.
Daisies are thought to slow bleeding, relieve indigestion and ease coughs. In homeopathy, the garden daisy is known as the gardener's friend for its ability to ease an aching back.
People take wild daisy tea for coughs, bronchitis, disorders of the liver and kidneys, and swelling. Wild daisy is sometimes applied directly to the skin for wounds and skin diseases.
Collecting daisies is a fun activity to do together children. Choose one sunny day go to garden, park or from nature nearby pick up handful of young fresh wild daisy for tea, salad and balm!
How to use Wild Daisy
DAISY TEA
Drinking a cup of daisy tea is a great way to promote energy and remedy respiratory conditions such as bronchitis, sinusitis, and coughs.
A handful of dried daisy flower heads
One cup of hot, not boiling, around 85C water
1 tsp raw honey (optional)
Pour the water into a cup and add the daisies. Let it infuse for ten minutes. Strain and add honey.
SPRING SALAD WITH WILD DAISY
Daisy flowers can make a tasty addition and decoration to any green letures salads (they're closely related to artichoke and are high in Vitamin C).
DAISY  BALM
This balm can be use to prevent small wrinkles as well as use for bruise. Before making balm, you need to make wild daisy infuse oil first.
DAISY INFUSE OIL
A handful of fresh daisies
Enough sweet almond oil (or other vegetable oil) to cover
Take the clean, dry, freshly picked daisy heads, lightly dust with sieve and place in a clear jar then cover with oil. Cover and leave to infuse for around 4-6 weeks Strained with cheese cloth after.
If you have no patient to wait 4-6 weeks, you can using bain-marie method. Place a small amount of water into a saucepan, then place daisy and oil jar into the saucepan, the water level should cover 1/3 of jar. Use the lowest heat to simmer for 12 hours. Remember daisy flowers are very fragile, high heat will destroy the benefit of daisy.
Daisy Balm 
120ml daisy infuse oil
20g bees wax
2g Vitamin E (prevent rancidity)
Using bain-marie method slowing heat and melt beeswax, once bees wax melted completely add daisy infuse oil and vitamin E slowly and mix well. Pour the mix into a sterilized jar, seal and label with dated. Apply balm as needed. For external use only. Shelf life is up to 1 year is store in cool, dark place.
Side effects of wild daisy:
When trying new plants/herbs, always take a small amount (intake) or a patch test (on skin) to start with. In case of skin irritation or itching, stop immediately and consult with your doctor.
Pregnancy and breast-feeding: Not enough is known about the use of wild daisy during pregnancy and breast-feeding. Stay on the safe side and avoid use.
Wild Daisy may cause an allergic reaction in people who are sensitive to the Asteraceae/Compositae plant family. Members of this family include ragweed, chrysanthemums, marigolds, daisies, and many others. If you have allergies, be sure to do patch test or check with your healthcare provider before taking wild daisy.